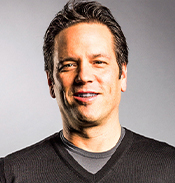 Phil Spencer, CEO, Microsoft Gaming
Lifetime Achievement Award Recipient Biography
Biography provided by Chris Kohler, Editorial Director of Digital Eclipse, a game developer devoted to preserving the history of video games.
Phil Spencer has held many titles at Microsoft, from Intern to General Manager to Head of Xbox. In January 2022, he was named CEO, Microsoft Gaming—a position that had not existed before within Microsoft, and an indication of the singular impact he has had on the company's gaming division. Spencer's bold strategies for the Xbox business have not only reinvented the way Microsoft approaches gaming, but could also reshape the entire industry.
The first game Phil Spencer ever played was Pong, but his life's path was truly set in motion the day his father, a chemical engineer, brought home a Sinclair ZX81 personal computer. The inexpensive device's membrane keyboard made typing a chore, but that didn't stop the Spencers from using it to create programs. "On that computer, we didn't just play games together, we wrote games together," Spencer recalled during his keynote address at the D.I.C.E. Summit in 2018.
Spencer began his journey at Microsoft as an intern in 1988, while he was still pursuing his bachelor's degree in Human Centered Design & Engineering at the University of Washington. After joining the company full-time, he progressed through a variety of roles, including development lead for Microsoft's first CD-ROM titles, including the groundbreaking electronic encyclopedia Encarta. Other productivity software led by Spencer included Microsoft Money, Microsoft Works, and Microsoft Picture It.
Even though he wasn't working on gaming at Microsoft, it was no secret where Spencer's passions lied. "Phil had a passion for gaming long before his start at Microsoft, proof being his huge collection of Atari ST games," says Alan Hartman, Microsoft CVP of Forza and Fable at Turn 10, Xbox Game Studios. "He was always the guy you wanted to hang out with, as something cool was bound to happen."
"In 1997, Ultima Online changed everything for me," Spencer recalled in his 2018 keynote. Playing Richard Garriott's breakthrough massively multiplayer online game was the first time Spencer felt the pull of being in a "fully-imagined living world." He set up an extra machine in his office to play the game.
It was perhaps inevitable that he would join the Xbox team. By 2007, he was general manager of what was then known as Microsoft Game Studios, and was tapped to head up the division's new European headquarters, working directly with developers like Lionhead and Rare. "I loved the process of building games and, probably equally, I loved seeing how different teams could build amazing games in their own way," he told the news website Axios.
In Europe, Spencer worked closely with Shannon Loftis, then director of European production. "You think you know a person, and then you spend months sitting in a supply-closet-turned-group-office in another country with them and then you really get to know them," says Loftis, currently the head of World's Edge Studio, overseeing the Age of Empires franchise. "What I learned about Phil: he's incredibly real. All the brilliant, compassionate, thoughtful things he says reflect the person that he is. He learns and grows and improves not just himself, but the people around him, too."
From there, he began a quick rise to the top of Microsoft's game development division: By 2008 he was head of Microsoft Studios worldwide; by 2009, he held the role of Corporate Vice President, Microsoft Studios. In 2014, following the launch of the Xbox One, new Microsoft CEO Satya Nadella named Spencer to a new role known as Head of Xbox, unifying the sprawl of Xbox, Xbox Live, Xbox Music, and Xbox Video teams under a single leader. In 2017, Spencer joined Microsoft's Senior Leadership Team.
"In the over thirty years I have worked with him, no matter what he was working on, Phil always approached new opportunities with integrity and with a game creator- and gamer- first mindset," says Kevin Gammill, CVP of Gaming Developer Experiences at Microsoft. As a lifelong gamer, Spencer was an advocate for initiatives that players demanded. Although the Xbox One did not launch with backward compatibility, Spencer announced that it would be added to the platform at E3 2015 to thunderous applause. He was an early supporter of not only cross-platform play, but of actually releasing Xbox's exclusive game titles on other game platforms. Microsoft's acquisition of Minecraft maker Mojang in 2014 only expanded the game's cross-platform reach.
Microsoft's recent introductions of Xbox Game Pass and Xbox Cloud Gaming have not only changed where and when players can interact with Xbox, but also fundamentally changed the economics that have existed since the beginning of the console gaming business by introducing the subscription service model, backed up by a growing stable of game development studios under the Xbox umbrella, including Undead Labs, Ninja Theory, Playground Games, Compulsion Games, Obsidian Entertainment, inXile Entertainment, and most recently the industry-shaking acquisition of Bethesda parent Zenimax Media and an intent to acquire Activision Blizzard.
Through it all, Spencer developed a reputation for a heartfelt commitment to diversity, inclusion, and safety, both inside Microsoft's walls and outside it. "Phil's fingerprints are all over the industry's push to provide a more diverse, accessible, and enjoyable gaming ecosystem, regardless of if you are a creator or player, where everyone can have fun," says Kevin Gammill. "He has made the entire game development industry better by welcoming all creators and gamers," adds Shannon Loftis. The development of the groundbreaking Xbox Adaptive Controller, which lets players of all abilities and skill levels enjoy Xbox games, represents Xbox's commitment to inclusion.
"What makes Phil truly special is that he comes to this industry with a deep and enduring passion and love for games and the creators who make them," says Sarah Bond, CVP of Gaming Ecosystem at Microsoft. "He marries that with an inclusive, collaborative, and empowering leadership approach that he extends to every aspect of this industry."
With 1 million followers on Twitter, Spencer uses his public platform to express his commitment to diversity, equity, and inclusion in the gaming community. He is also helping to educate the next generation of technology leaders, working with University of Washington engineering students on capstone projects and serving as a commencement speaker for the Human Centered Design & Engineering department.
"Phil has a unique ability to lead with his strong passion for gaming," says Matt Booty, current head of Xbox Game Studios. "He's grounded and down to earth, and even while navigating a high-level strategy for Xbox over a long arc of time, he has remained pragmatic and approachable. Phil has inspired and mentored so many people across our industry, and it's great to see him being honored by his peers." The Academy of Interactive Arts and Sciences is honored to present Phil Spencer with its Lifetime Achievement Award at this year's D.I.C.E. Summit.