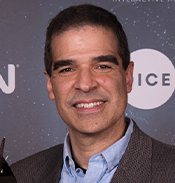 Ed Boon, Chief Creative Officer, NetherRealm Studios
Hall of Fame Recipient Biography 
Biography provided by Chris Kohler, Editorial Director of Digital Eclipse, a game developer devoted to preserving the history of video games. 
Ed Boon looked on as a martial artist in a fanciful yellow ninja suit posed on a soundstage in 1992, performing a series of punches and kicks for the camera. "You know what would be a cool-ass move?" Boon said. "Do ninjas ever have this sort of rope?" The 27-year-old programmer pantomimed the move he wanted the actor to perform, pretending to throw a spear-tipped rope across a screen, impaling the opponent and dragging them back into close range. On the spur of the moment, Boon improvised the line the ninja, named Scorpion, would scream: "GET OVER HERE!" 
The game that Ed Boon and his small team of young designers were creating was called Mortal Kombat, and it would grow into one of gaming's most long-lasting franchises, with 12 major entries spanning from that 1992 arcade original to the critically-acclaimed 2019 release of Mortal Kombat 11 on modern gaming platforms. Through it all, Ed Boon has shepherded the series' growth, from co-creator/programmer all the way to Chief Creative Officer of NetherRealm Studios, the Warner Bros. studio that creates Mortal Kombat as well as Injustice, the series of fighting games starring DC superheroes. 
Born and raised in Chicago, Boon remembers the day they wheeled Midway's Space Invaders cabinet into the local bowling alley. At first, he wasn't interested, preferring to drop his quarters into the alley's vast array of pinball machines. But when he saw his younger brother Mike get hooked on the alien-blasting action, he got intrigued. "I was like, why aren't you playing pinball? Eventually I tried it, and it was like, this changes everything." 
"That was a life-altering moment for me," Boon says. "Defender, Asteroids, Pac-Man… that's when things just exploded." In high school, Boon got an Atari 800 computer and began to learn programming. At the University of Illinois Urbana-Champaign, he studied computer science. "I didn't think at all that I'd be lucky enough to be doing video games, but I thought, okay, I'll be doing computer programming for a bank, or something." 
After he graduated, Boon put together a resume—the only one he would ever write—with an asterisk at the bottom noting that he had a personal interest in video games. He was quickly recruited by Williams Electronics, the Chicago-area pinball and video games maker, to program pinball machines. He programmed a number of pinball machines including F-14 Tomcat, Space Station, Taxi, and Black Knight 2000, hand-tuning the lights and sounds to respond to the player—"to make the game come to life, basically," he says. 
It was in pinball that Boon began his tenure as a voice actor. "I was always doing impressions of our managers or other people, trying to make people laugh," he says. Soon, one of the game designers asked him to get into the sound booth and read some lines in one of his voices for a game. "Before I knew it, another team asked, then another. And then I was just the voice guy." Boon's most memorable turn was as Rudy, a wisecracking ventriloquist dummy's head who came to life, with moving eyes and mouth, in a popular 1990 pinball called FunHouse. Rudy would constantly taunt the player as they smacked the ball around, and Boon's voice would reverberate throughout the arcade, drawing more players in.
In 1988, Williams acquired its main Chicago-area competitor Bally/Midway, and two major video game makers were now under one roof. Boon wasn't shy about wanting to shift from pins to video, and got his chance in the early 1990s when he started working on a new fighting game. This game would compete with the highly popular Street Fighter II, which had revolutionized the nature of video arcades, shifting them away from single-player high-score contests to one-on-one versus matches.
What Boon and his co-designer John Tobias designed was as far from Street Fighter as could be imagined. Digitized images of real-life martial artists filled the screen, with copious amounts of blood and gore splattering the scenery every time they exchanged blows. At the end of the match, if a player knew the secret command, they could execute a "Fatality" move, and leave their opponent not just defeated but dead. Mortal Kombat was a massive arcade success (and caused no end of controversy). 
Its over-the-top, comedically violent nature was the result of Boon and Tobias continually raising the stakes on each other. "John did artwork and I did gameplay, and we could literally prototype up any idea in minutes," he says. "We weren't reliant on anybody to do it. A lot of how that game came to be was just cooperation and spontaneity." The classic spear-throwing move from the ninja Scorpion was thought up by Boon, iterated on by Tobias, and performed by the actor all in a matter of minutes. 
"My working relationship with Ed during the creation of Mortal Kombat was collaboratively symbiotic," says Tobias. "We were both very young, and while we were only a few years removed from the influences and creative instincts that inspired our childhoods, Ed provided the discipline and coding skill that made our work on Mortal Kombat possible." 
When it came time to add voice work to Mortal Kombat, Boon lent his deepest bass screams to Scorpion. In fact, he has continued to voice the character in every Mortal Kombat game, to this day. In 2010, the Guinness Book of World Records recognized Boon as the "longest-serving video game voice actor" for his work on Scorpion. "It's going to be 30 years of doing that voice, all from that spur-of-the-moment 'get over here,'" Boon says. 
For the next two decades, Boon continued to build the Mortal Kombat franchise. He was the sole programmer of the first two arcade sequels, Mortal Kombat II and Mortal Kombat 3. When the series shifted to polygonal 3D graphics with 1997's Mortal Kombat 4, more programmers were added, and the team began to expand significantly. 
Pressure started to build. Mortal Kombat's continued success became "an expectation," says Boon. "At first it was, wow, what a surprise! And then, oh my God, the second one did even better than the first! And then it was, okay, we are expecting a monster hit." With 2002's Mortal Kombat: Deadly Alliance, the series shifted away from arcades to a console-only experience. "There was a lot on the line," Boon said. In an uncertain industry, Mortal Kombat was keeping Midway afloat, and Boon wanted to be there to keep it going. "I would always say, once we release a game that doesn't sell, everything breaks," Boon says. "I was a little afraid of handing it off and then it dissipates because there was a bad game or something. I put a lot of work into it and wanted to see it continue." Boon's team continued to turn out well-received games in the series, including Mortal Kombat Deception, Mortal Kombat Armageddon, and the crossover Mortal Kombat vs. DC Universe. 
Through all the turmoil, Boon developed a reputation for keeping the team in good spirits. "He was great at keeping things jovial," says Tobias. "Laughing was a big part of our relationship and I don't know if I could've made it through the long days and endless hurdles without it." 
"It is rare to be in a meeting with Ed where people are not laughing," says Shaun Himmerick, who produced several Mortal Kombat games at Midway and is now Studio Head of NetherRealm. "He brings down the tension and stress levels. I think that speaks volumes about the kind of person Ed is." 
The 2009 acquisition of Midway Games' assets by Warner Bros. Interactive Entertainment might have marked the end of Midway, but it was a lifeline to the Mortal Kombat series. "Warner Bros. had multiple tent poles," Boon says. "It was great to be part of a portfolio of strong titles." Warner immediately gave the team six more months to complete the 2011 version of Mortal Kombat. "Those six months made all the difference in the world," Boon says. It outsold every previous game in the series. 
Now under the name NetherRealm Studios, Boon's team soon got to branch out into a different world with 2013's Injustice: Gods Among Us. "When I was a kid, playing pinball, I was a DC person," Boon says. "I was Justice League, Green Lantern, Superman, the Flash, Batman. Those were my absolute favorite comic book heroes." So to suddenly be doing a game about those characters and having it be received well, that was a blast." Today, under Boon's steady leadership, NetherRealm has not only kept the Mortal Kombat series relevant and vibrant 30 years later, but has also created mobile beat 'em up games like Batman: Arkham City and WWE Immortals. 
"Not everyone who was successful being the vision holder for a game when the team is five to 10 people has been able to adapt to where we are today, with a team that is exponentially larger," says Shaun Himmerick. "Ed has successfully and gracefully navigated those needed changes while remaining humble, unassuming, and always the first person to defer praise for the games to the team and away from himself." 
"Navigating a single franchise through a 30-year existence is a feat performed by few," says John Tobias. "Ed represents both a pivotal era from gaming's past and a bridge into its future." 
From humble beginnings on a makeshift Chicago set, from good times to more difficult ones, Ed Boon has nurtured and grown the Mortal Kombat series every step of the way. 30 years later, NetherRealm Studios remains at the top of its game. With great respect for his astonishing legacy and decades of creative success in a rapidly-shifting industry, the Academy of Interactive Arts and Sciences is honored to induct Ed Boon into its Hall of Fame.