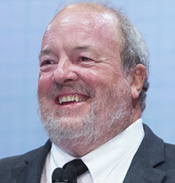 Allan Alcorn, Designer, Pong
Alcorn had an interest in technology from an early age, so his father signed him up for a course under RCA on radio TV and electronics repair while he was in junior high. He used these skills to hang out and work at a television repair company across the street from where he lived. These early skills came in handy, and Alcorn went on to receive his Bachelors of Science degree in Electrical Engineering and Computer Science from the University of California Berkeley.
After graduation Alcorn began his career at Ampex in 1968 working on a high resolution document storage system where he met Nolan Bushnell. Bushnell began what is now called Atari and in 1972 Bushnell hired Alcorn as the chief engineer to create a simple video ping pong game for the coin-operated arcade market. Alcorn finished the exercise in 3 months, Bushnell branded the game as PONG and the game was mounted at Andy Capps' Tavern in Sunnyvale, California where the game took off! In 1974 Alcorn created the first video game on a custom chip (home PONG) followed by the Atari VCS home video game platform that launched the cartridge video game industry.
Since then Alcorn has continued to shape the technology industry as a Fellow at Apple Computer leading a project that led to QuickTime and MPEG, Silicon Gaming to develop a multi-media slot machine for casino gaming, Zowie Intertainment, and Integrated Media Measurement Inc. (IMMI).