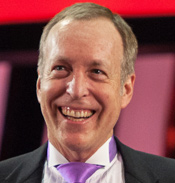 Eugene Jarvis, Co-founder and President, Raw Thrills, Inc.
Jarvis got his first big break from Nolan Bushnell at Atari in 1977, programming electronic pinball games.
His debut video game was the smash hit Defender (1980). Defender's pioneering scrolling playfields, multi-planar graphics, particle effects, arificially intelligent enemies, and mind-numbing action helped seduce an entire generation to video games. Defender sold over 60,000 arcade games and 7,000,000 Atari 2600 cartirdges.
Robotron: 2084 (1982), featured a revolutionary dual joystick control, and remains a classic action title. Robotron's record for adrenalin pumping action, explosion effects, and enemy body count has yet to be matched.
NARC (1988) debuted digitized live-action actors, backgrounds, and flying body parts, and hi resolution graphics, in an urban themed action thriller.
In 1990's, Jarvis's team at Midway Games jump started the adventure driving genre with Cruis'n USA (1994), Cruis'n World (1996), and Cruis'n Exotica (2000) featuring photo-realistic 3-D texture mapping and modeling, and real world locations. The Cruis'n series is the all time highest grossing arcade driving series with over 65,000 arcade games sold worldwide. Cruis'n USA was a launch title for the Nintendo 64, and the series sold over 3,000,000 console games.
In 2001, Jarvis founded the boutique design studio, Raw Thrills, dedicated to arcade game design. Raw Thrills merged with the Play Mechanix studio in 2006. Titles to date include the action shooter Target: Terror, The Fast and the Furious, SuperBikes 2, Big Buck Hunter HD, Terminator Salvation,Batman, H2Overdrive, Deal No Deal, SnoCross, Aliens Armageddon, and many others.