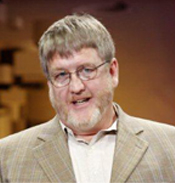 David Crane
Crane started his career at Atari making games including Outlaw, Slot Machine and Canyon Bomber for the Atari 2600. He was also instrumental in the design of the Atari 800 computer's operating system;  and later developed the Display Processor Chip (DPC), which was awarded a patent for its unique video memory system.

In 1979, Crane co-founded Activision with Alan Miller, Jim Levy, Bob Whitehead and Larry Kaplan. At Activision, Crane was best known as the designer of Pitfall!,which is credited as being the very first platform game. Pitfall! stayed at the top of the Billboard charts for 64 weeks and was named video game of the year in 1982. Besides selling millions of copies worldwide, it spawned a Saturday morning television cartoon and numerous other spin-offs. Other titles that received critical acclaim and enjoyed major successes include:
•    Pitfall! II: Lost Caverns - Number one rated game in the country for six weeks, and went on to win the 1984 Golden Floppy Award.
•     Decathlon -Top twenty videogame for more than a year and won several sports games awards.
•     Ghostbusters - Crane's ninth release received unprecedented sales around the world.
•    Little Computer People -Won game of the year by Computer Entertainer and was awarded 1985's most innovative.  

Other popular games made while at Activision include Dragster, Freeway, Fishing Derby and Grand Prix.

In 1986, Crane left Activision, and joined Absolute Entertainment, founded by Garry Kitchen. He was best known for his successful and innovative NES titles, Amazing Tennis, whose components are modeled after real people Crane played tennis with and A Boy and His Blob, following the adventures of the protagonist and his companion, a shape-shifting, jellybean eating "blob." The game developed enough of a following that in 2009 it was remade as a Nintendo® Wii™ game.

In 1995, Crane and Kitchen co-founded Skyworks® Technologies, a privately held multimedia developer specializing in casual games. Their portfolio of online games has been played by more than one billion players around the world. Skyworks® currently has several iPhone games in the App store, such as Arcade Bowling, Boardwalk Games, Arcade Hoops, and Field Goal Frenzy. The company pioneered the concept of advergaming, with clients including The Lifesavers Company, Proctor and Gamble, Sony, CBS, ESPN, Kraft, Ford and BMW.