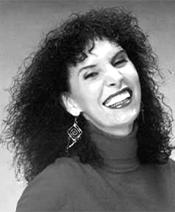 Danielle Bunten Berry, Game Designer and Programmer
Biography provided by Chris Kohler, Editorial Director of Digital Eclipse, a game developer dedicated to preserving and celebrating the history of video games.
"No one on their deathbed ever said, 'I wish I had spent more time alone with my computer.'" – Danielle Bunten Berry, circa 1988
Dani Bunten Berry could see the future. In a computer game industry dominated by single-player games meant for extended solo play, she was dedicated to exploring the possibilities of multiplayer – first by turning the home computer into a gathering place for family and friends with games like M.U.L.E., and then with online games that truly connected the player with the human at the other end of the line.
Dani Bunten Berry could see the future, but she did not live to see it happen. The pioneering game designer died of cancer in 1998, at the age of 49. In 2007, she was posthumously inducted into the AIAS Hall of Fame.
Born in 1969 in St. Louis, Missouri, Berry moved with her family to Little Rock, Arkansas when she was around 16 years old. "When I was a kid, the only times my family spent together that weren't totally dysfunctional were when we were playing games," Berry said in an interview conducted in the mid-1990s and published in the book Halcyon Days. "Consequently, I believe games are a wonderful way to socialize."
After obtaining a degree in Industrial Engineering from the University of Arkansas in 1974, Berry did a brief stint doing computer modeling with the National Science Foundation before taking the first chance she could to jump into the nascent computer gaming industry. In 1978, just a year after the release of the Apple II, Berry published her first game, Wheeler Dealers, through a Canadian company called Speakeasy Software.
Unlike the vast majority of games at the time, Wheeler Dealers was a multiplayer game in which four players competed simultaneously. In an era in which most games were sold in Ziploc bags, Wheeler Dealers actually shipped inside a box, with a custom four-player controller. Wheeler Dealers was far ahead of its time – too far, as it only sold 50 copies. Still, she recalled it as the "launching pad" for her career, as she continued to develop the multiplayer concept throughout her next games.
Berry soon found a new publishing partner in Strategic Simulations, Inc., a company founded in 1979 to bring versions of tabletop wargames and other simulation games to home computers. Her three games with SSI – Computer Quarterback, Cartels & Cutthroats, and Cytron Masters – were all multiplayer games in a variety of genres.
By this time, Berry had formed her own Arkansas-based company, Ozark Softscape, with a small group of development partners. In the early 80s, Ozark found itself being courted by a new player in the software publishing business called Electronic Arts. One of the first games published when EA launched in 1983 was Berry's M.U.L.E., a strategy-simulation game in which four players compete to colonize an alien planet. Critically acclaimed upon release and often cited as one of the most influential computer games of all time, M.U.L.E. was the culmination of all of Danielle Bunten Berry's work in multiplayer games to that point.
Uncharacteristically for Berry, her next two games with Electronic Arts were the single-player adventure games Seven Cities of Gold (1984) and Heart of Africa (1985), which continued to build her reputation as a maker of compelling, deep strategy games. (Seven Cities, which was Berry's most commercially successful game to that point, also has the dubious honor of being the game that birthed the word "edutainment," coined by EA founder Trip Hawkins to describe it to the press.)
Berry, now one of the world's most recognized game designers, returned to creating multiplayer games for Electronic Arts with Robot Rascals (1986) and the early online game Modem Wars (1988), before shifting to the publisher Microprose with Command HQ and Global Conquest, released in the early 1990s.
In 1992, Berry, who was transgender, underwent gender-affirming surgery. Afterwards, she began to do more behind-the-scenes consulting, rather than program and ship her own games. "I'm... not as willing to sit for hours in front of a computer to make something that other people can use to socialize. I tend to need to socialize far more often," she said in the Halcyon Days interview. "Thus, I do design and consulting rather than programming and development. However, with my background I seem uniquely suited to this business, so I think I'll stay around in one form or another for as long as they'll have me." She designed one final game, Warsport, for the Mpath multiplayer gaming network in 1997, which has since shut down, making the game impossible to play today.
Throughout the 1990s, as online multiplayer games began to become more popular, Berry, recognized as the industry's leading expert on multiplayer design, continued to write and speak about the need for computer games to facilitate more human connections through multiplayer.
"All of us value people in our lives," she wrote on her website in 1996. "When you include the more mainstream, casual players who are currently coming into the PC market, it's evident that products that have a people orientation will become the growth area for the industry in general."
In 1998, the Computer Game Developers Association presented Danielle Bunten Berry with its Lifetime Achievement Award. "It is no exaggeration to characterize tonight's honoree as the world's foremost authority on multiplayer computer games," said Berry's friend, game designer Brian Moriarty, presenting her with the award. "Nobody has worked harder to demonstrate how technology can be used to realize one of the noblest of human endeavors -- bringing people together. Historians of electronic gaming will find in these eleven boxes the prototypes of the defining art form of the 21st century."