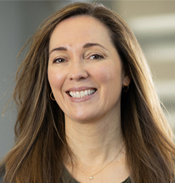 Bonnie Ross, Corporate Vice President at Microsoft and Head of 343 Industries
Corporate Vice President at Microsoft and Head of 343 Industries, Bonnie Ross, is a prominent leader in the videogame business. She has worked on some of the most successful games created and founded one of the most influential studios in entertainment. Her passion and acumen for blending art and storytelling with technology has translated into a remarkable career. Ross' leadership has garnered respect throughout the gaming industry and beyond. 
Epic Games Vice President and Co-Founder Mark Rein said, "Bonnie Ross has been a leader of men and woman in a development and publishing capacity, and achieved huge levels of success over a long period of time." 
While best known for her work on the Halo franchise and founding 343 Industries, Ross' career has been incredibly diverse. She started in the gaming industry in 1994 as a producer on NBA Full Court Press at Microsoft. Working her way up to what would become Microsoft Game Studios, her catalog of work spans a vast array of videogame genres. Ross has led and worked alongside several leading studios in the co-development or publishing of many top titles, including  NBA: Inside Drive, Pandora's Box, Zoo Tycoon, Dungeon Siege, Counter-Strike for Xbox, Gears of War, Jade Empire, Psychonauts, and Mass Effect. 
Executive Vice President and Head of Gaming at Microsoft Phil Spencer noted, "It's been a privilege to work alongside Bonnie for more than two decades. I have continually been impressed not only by her passion for merging art and storytelling, but also her equal passion for creating teams and technical breakthroughs." 
Before embarking on her career in gaming, Ross displayed a talent for advanced math and science at an early age. This led to her earning a degree in technical communication, with a concentration in physics and computer science. Her passion for the creative aspects of science and technology shaped her professional career and influenced her various philanthropic efforts. 
At Microsoft Game Studios, Ross collaborated with Bungie on Halo 3, Halo 3: ODST, and Halo: Reach. Already considered the premiere first-person shooter in console gaming, these titles elevated the franchise's success, making Halo one of the most successful videogame franchises.
In 2007, Ross founded Microsoft Studios' 343 Industries and was tasked with expanding the success of the Halo franchise. Games including Halo: Combat Evolved Anniversary, Halo: Spartan Assault, Halo: Spartan Strike, Halo 4, Halo: The Master Chief Collection, Halo 5: Guardians, Halo Wars 2, and Halo: Fireteam Raven have made Halo a $6-billion franchise. Ross and her team at 343 Industries has worked on and overseen these games, as well as the upcoming Halo: Infinite. 
Throughout her career, Ross has emphasized the importance of the player, as well as the people she leads. 343 Industries Head of Transmedia and Entertainment, Kiki Wolfkill, said, "Her passion for player focus and building true brand loyalty has proved to be inspirational and her leadership style has spread beyond games to other areas of Microsoft, making the company even stronger. As the head of 343, Bonnie values the player and our teams equally, always choosing the right path for quality of experience and team health, which is something many business owners put behind KPIs and metrics, not realizing the short-sightedness of that approach." 
From creating and overseeing games that sold millions of units to founding a creative powerhouse, Ross' reputation as a unique leader grew. "Bonnie is thoughtful and deliberate. She has an innate curiosity about challenges and opportunities, and a great capacity to absorb a lot of information and lead a team with a path forward," said Head of Microsoft Studios, Matt Booty. 
Wolfkill added, "Bonnie leads with integrity, compassion, and a genuine passion for creating success around her, not for herself. This desire to see others succeed, to see them empowered, delighted, or gratified, means a singular focus on quality game experiences and a place where people want to come work. For our teams, seeing this passion is energizing and inspiring." 
Ross was instrumental in transforming Halo from a dominant videogame franchise to a transmedia juggernaut. The Halo novels have been a tremendous success with 12 of them hitting the New York Times' Best Sellers List. The live-action series Halo: Forward Unto Dawn and Halo: Nightfall gave the franchise a new facet that was enormously successful. In 2018, SHOWTIME announced that it has ordered 10 episodes of a Halo television series. Halo consumer products have generated over $1.6-billion in revenue under Ross' leadership. 
Booty noted, "We are fortunate to have Bonnie as a Microsoft executive. She has a wealth of experience and her unique points of view -- both have helped make 343 Industries and Microsoft what they are today. In particular, her leadership has been instrumental in growing Halo to be a franchise that spans games, television, toys, books, and pop culture." 
While Ross' noteworthy accomplishments stand out on their own, they're especially impressive in the context of them happening in an industry that's largely male and often unwelcoming to women. "You can look at Bonnie's achievements and objectively acknowledge that she is an amazing role model for men and women, but it is the how of her success that has helped so many women believe that there is a path for them too. Bonnie's passion, conviction, and generosity have inspired so many girls and women to aspire to lead in their own style and to know that the culture shift is real -- success does come from inclusive leadership. Bonnie forged a path at a time when diversity was barely a business term to become an industry leader and she has done this while doggedly advocating for inclusion," said Wolfkill. 
Rein added, "Bonnie's success is not a surprise for those of us who know her, but in this male-dominated industry it certainly adds an extra level to her achievements and hopefully helps pave the way for the women coming up behind her." 
While greatly respected in the gaming business, Ross' accomplishments have been recognized by the mainstream media as well. As part of Fortune's "Most Powerful Women" series, she was named one of the 10 most powerful women in gaming. 
Ross has used her position as a celebrated woman in technology to help inspire others to explore similar career paths. She is an integral part of The Ad Council's "She Can STEM" campaign, which encourages young girls and young women to pursue careers in the fields of science, technology, engineering, and mathematics. 
"As the leader of one of the most well-known franchises in video games, Bonnie is a role model for women in the gaming industry. She is also an inspiration for young women looking to get into technical and creative fields. When people talk about STEM, they often focus on coding and math, but Bonnie has also been vocal about the creative and artistic aspects of STEM careers like video games. She has shown that the path for women in video games and STEM goes all the way to the top," said Booty. 
Spencer summed up Ross' career by saying, "Bonnie's tenure at Microsoft is more than just a model for aspiring game makers, it's a proof of concept that bringing together talented and diverse voices around a shared, passionate vision, can unleash worlds, wonders, and legends that define entertainment for generations." 
Bonnie Ross' successes reflect some of her strongest qualities -- unique vision, indefatigable passion, and singular drive. She has used those qualities to help make Halo a $6-billion franchise, found one of the most unique studios in gaming in 343 Industries, and help transform Halo into a property that spans several mediums. Amidst all of her work in the videogame business, Ross also works to elevate other women in gaming and inspire young women to explore STEM careers. A true inspiration for women and men alike, The Academy of Interactive Arts & Sciences is honored to induct Bonnie Ross into the Hall of Fame.