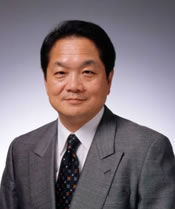 Ken Kutaragi, CEO, Cellius
Without the vision and perseverance of Ken Kutaragi, it's hard to imagine that the global popularity that video games enjoy today within popular culture would even exist. Ken Kutaragi's PlayStation - a brand that has transcended gaming and become a part of the entertainment and pop culture venacular - has become synonymous with gaming to hundreds of millions of fans. There are over 230 million PlayStations and PlayStation 2s in homes across the world. And both PSP and PlayStation 3 have experienced major sales boosts in 2008.

Kutaragi, who was not an avid gamer himself, has said he saw the potential of interactive entertainment through his daughter's love of Nintendo's Famicom. While at Sony, which at the time had no interest in videogames, Kutaragi secretly created the SPC700 sound chip for Nintendo's SNES console. It's that relationship with Nintendo, which lead to Sony's involvement in the eventually-canceled SNES-CD add-on device, that eventually gave birth to Sony's PlayStation in 1994.

At that time, the videogame industry was driven by hardcore gamers and the only two players in the hardware game were Nintendo and Sega. both seasoned veterans. Sony was known more for music and its Walkman and TVs, so the wave of change that flooded the industry with the introduction of vibrant 3D worlds and exclusive games like Tomb Raider, Crash Bandicoot, and Resident Evil took the entire world by surprise.

Kutaragi, who's original PlayStation was the first console to break the 100 million sales threshold in 2005, achieved the impossible when he launched PlayStation 2 in 2000. Not only did PS2 become a bigger, more mainstream hit than the original. Its DVD-based games and movie playback played a key roll in the failure of Sega's Dreamcast and the retreat by that game giant out of the hardware business.

The "Father of the PlayStation" launched his career in 1975 by joining Sony Corporation's research lab, where he earned the reputation as an excellent problem solver and forward-thinking engineer. In 1999, Kutaragi was named president and CEO of Sony Computer Entertainment, Inc. Recognized for the success of PlayStation 2, TIME Magazine named Kutaragi one of the 100 most influential people of 2004. During that same period, he was appointed executive deputy president of the Game Business Group and Broadband Network Company for Sony. Kutaragi briefly shifted his focus to handheld gaming and launched the PSP, quickly followed by the PS3. In June 2007, Kutaragi officially announced his retirement from Sony after 30 years of service. He currently serves as honorary chairman of Sony Computer Entertainment, Inc., and senior technology advisor of Sony Corporation, where he applies his extensive knowledge and experience to continue to advance the future of technology.