Ten Questions with the Academy:
Matias Myllyrinne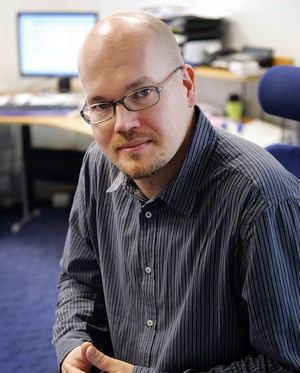 Matias Myllyrinne is a member of the Academy of Interactive Arts and Sciences. He will speak at the D.I.C.E.® Summit in 2010. He works for Remedy.


Q: What's your favorite part of game development?

A: Shipping. We are so close with Alan Wake and it has taken a while. I would really like to share what we have done with the world. No other feeling can match the exhilaration of seeing years of work come to closure.


Q: How do you measure success?

A: As for, success in games. it's easy – units sold and Metacritic. In any form of entertainment, if the audience likes what you create and it sells – that's what counts in the end.

Professionally success is defined by the success of those around me. Are my partners aligned with me and taking part in good business, is my team creative, empowered and financially secure and are my shareholders seeing good long term strategic direction. Personally, I am successful if I am doing new things, enjoying a balanced life with the job I love and all the other interesting things the world has to offer.


Q: What's the one problem of game development you wish you could instantly solve?

A: Form 10-Q. I'm discouraged by the eternal need to manage earning per share on the quarterly basis for most listed publishers. If publishers were under less pressure to push for the short term earnings estimates, the more they could focus on building long term success and strategic advantage. I understand why things are the way they are, but the overall success could be much bigger with a more patient and steadfast approach.


Q: How do you want to be remembered?

A: I'm young, so hopefully there are many years of adventures, joy and achievement ahead. Leaving a legacy is not exactly a top concern. Anyway, I think it would be awesome to be remembered as someone who made a positive contribution in the evolution of our industry, helping to bring leading game based intellectual properties to life. Hopefully, doing my bit to build entertainment franchises that cross over to other forms of mainstream entertainment and become a part of popular culture.

Equally, I hope I'll be remembered as helping to build great and lasting creative organizations. Teams with the kind of culture that transcends individuals…companies that have that certain something, and always seem to be able to bring out the best in their talent by pushing the envelope, iterating and consistently improving whilst building on their past success. But really, I'd probably settle for being just remembered as a good father, fair boss and respected business partner.


Q: Are games important?

A: Yes. Games are a big and growing, offering a relevant form of entertainment for people worldwide.


Q: On a practical basis, what's the one thing you're going to tackle next?

A: Well, there are a lot of challenging elements related to bringing a game to market. I think we have learned a lot from Alan Wake as a project, putting those lessons into practice for the future will be a key think to tackle, and hopefully that'll set the tone for the fun and busy times ahead.


Q: Tell us one of your recent professional insights.

A: How far testing and quality assurance have come in the last decade. I'm awestruck at the tools that test and quality assurance can build these days. Microsoft Game Studios, for instance, has built a solution for Alan Wake, for example you are able to click on a screenshot where a problem exists, which then loads up that section of the game immediately. Being able to share these types of tools with a team is so powerful and makes for a better polished game.


Q: Do you think it's important for developers to continue playing games?

A: I certainly think it's important for developers to continue to enjoy games. One can spend a lot of time looking at games from a professional perspective and analyze them, but we should not lose sight of fun factors, where it all began. I think it is important to try to sometimes "let go" and to just enjoy the entertainment value. Too often the fun is lost when one starts analyzing and breaking things down. Being able to dissect something is important but I don't want to lose that fun and excitement of games – which is why most of us got into the industry in the first place, but more so, why people buy our titles.


Q: What's the biggest challenge you see facing the industry?

A: The current model of used game sales and rentals are poison for the creatives in our ecosystem. However, I think this issue will be solved eventually. A big challenge that I do not have a quick answer for is our industry's diminishing ability to take calculated risks in building new triple AAA intellectual property. As AAA games get bigger and budgets increase, the ability and appetite to bring new IP to the market is diminishing. This form of entertainment cannot rely on licenses and sequels alone, we need fresh blood and must continue to renew ourselves and to push innovation with new kinds of games and content.


Q: Finally, when you look at the future is there one great big trend that effects everyone?

A: Increasingly older gamers are becoming a demographic. The people who started playing games a decade ago need new kinds of gaming entertainment today and also in a decade from now. Catering to a maturing gamer who grew up on Half Life and Halo is going to be an awesome challenge and opportunity.