Ten Questions with the Academy: Ken Levine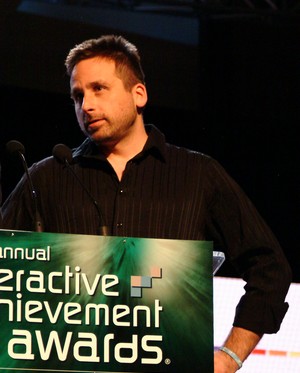 Ken Levine is a member of the Academy of Interactive Arts and Sciences. He spoke at the D.I.C.E. Summit® in 2008. He works for 2K Boston.


Q: How do you want to be remembered?

I want to be remembered for making cool games. Also, for making Shawn Elliott cry.


Q: What's your favorite part of game development?

A: Strangely, crunch. It's the worst and best part. It's often long, exhausting, and relentless, but it's also the time you get to watch the team's years of hard work come together amongst your friends and colleagues.


Q: If you weren't in game development, what would you be doing today?

A: Selling Mary Kay. I'd have one of those cars by now, for sure.


Q: What game are you most jealous of?

A: World of Warcraft, because development never ends. You don't make errors, you just fix them. And it's super-awesome. And then, of course, the zillions and zillions of dollars.


Q: What's the one problem of game development you wish you could instantly solve?

A: I wish we knew a bit more about how people played the games our company makes.


Q: Are games important?

A: Compared to food? No. Compared to other Media? Why the hell not? Important is a relative term…there's no reason we can't be as important as a poem, a song, a movie, a River Dance.


Q: Do you think it's important for developers to continue playing games?

A: Yes – if you don't play games you're not a developer. I play everything – great games from start to finish – crap, one-to-five minutes.


Q: How do you measure success?

A: In cubits.


Q: What's the biggest challenge you see facing the industry?

A: The industry has changed a lot in this cycle. There have been a lot of surprises – the Wii, DLC, digital download media and the declining buyability of mid budget three-to-ten million dollar games. Developers have to adapt to these realities and either go really big or find ways to make really fun smaller budget titles.


Q: Finally, when you look at the future is there one great big trend that effects everyone?

A: The last six months has cracked open the real potential of co-op a tiny bit. I've been playing a ton of Left4Dead, Resistance 2, Warhammer Online and I'm not someone who is big on multiplayer except for endless bouts of pathetic WoW solo grinding.