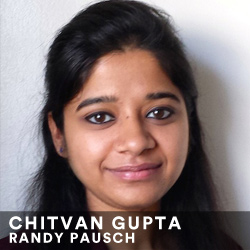 Prior to pursuing her Masters in Computer Science (Game Development) at the University of Southern California, Chitvan was an Engineer in Information Technology back in her home country of India. She decided to leave her job in IT to travel to the United States and pursue her dream of making games. In a short time Chitvan has already designed several games and also spends her time mentoring young girls for GirlsMakeGames. Read more about her journey and hear about her impressive work thus far in the below interview.
Tell us more about how you first became interested in working in the gaming industry.
In 2011, I started my career as a Software Engineer in the IT industry. After months of working there, I realized that I was not happy doing my work. It was neither challenging enough for me nor was it fun. A friend encouraged me to take out time to build/study what I wanted to. So I got to thinking about what I love doing.
I had interest in art in my childhood days. It came back as I took over the whiteboards of my office to express myself. And since games were a major part of my life while growing up, I began to think of game ideas. I realized that games could be a field where I could apply all of my interests. Since I did not have the necessary skills then, I decided to look for options for higher studies. It was only when I started pursuing my masters, that I actually became serious about working in game industry.
What got you interested in the USC Gaming Program and how has it impacted your life so far?
I applied to USC for a general degree in computer science. Initially, I was apprehensive of joining their game development program, as there are not many game studios in my home city. Also, their game program requires six more credits than the regular degree. Then I took a course in which I ended up making a mobile game. And that was all. Building just one game wasn't sufficient for me.
How it has impacted my life- For one thing, I am content that I embraced this field. 'Play' holds a special meaning in my life and I look for it even in trivial activities in a day! I also feel challenged on a regular basis, as there's this vast pool of knowledge I have to grasp and I am still at the beginning of it. Besides that, it has been a tough decision to not look for a highly-paying, regular software engineering job at some technical company and live for the passion of building games. But hopefully, the ends would meet someday and it will be worth it!
What are some of your favorite games you've developed so far and why?
I have been working on two mobile games-
Cole is a 2D dark-humored adventure game, in which you play as an alien clone whose job is to shovel coal into the furnace that powers the massive S.S. Spaceship. You repeat this task over and over again, until you realize that you could escape this life of slavery and explore the rest of the spaceship! I like exploration-based adventure games and if a game could make you laugh, what could be better than that. Building this game has been a pleasant learning experience for me and I enjoy putting together the various set pieces for it and working in the team. We are trying to raise funds for this game.
Halfway Down is a gravity based puzzle game in which you play as Wolfie, the thief, who attempts to find a safe path to the target location, in search of a rare blue diamond. The game has 30 levels as of now and an in-game level editor. This was the first game in which I got to try my own idea and it has been thoroughly enjoyable to do so.
I try to take out time besides studies to finish these games and publish them. Hopefully, they would be out there in sometime.
What is your dream job after you graduate? How would you like to positively impact the games industry?
My dream job would be the one in which I get to design and program games. It could be at an indie-studio or a small team at a bigger studio. It would best, if it's my own studio. For me, the sense of creative ownership matters.
I think continuing to follow my passion is already a way to positively impact the games industry. As a female developer, I look at other females in the industry for inspiration. And if I perform my job as brilliantly as any of my male colleagues would, I would already be clearing a line of doubt people have in mind about difference in capabilities. I strive to become a better developer every day and be the best at my work.
What is one of the biggest tips you would give to other students looking to pursue a gaming-related degree?
Learn to follow your passion. If you feel like you can't be doing anything else in life than make games, just stick to it. There would be many challenges along the way, but if you remind yourself that you want to live a dream, you would succeed!
Could you tell us more about your experiences at GirlsMakeGames and their work?
I had a nice time inspiring young girls over summer! The great thing about the GirlsMakeGames camp is that the girls don't just learn programming, or design or art only. They learn a bit of everything. And besides that, they learn about collaboration and taking responsibilities. At the least, the camp helps girls become comfortable with the idea of playing games and knowing about them.
I was the lead instructor for some of their camps. I used to create training modules and game templates to help the students understand the concepts of game development. In every camp, with each passing day, I used to get feedback on my work by carefully observing the learning curve of students. It's hard to get a 10 year olds attention and ease the concepts of math, programming and game engine in her mind. But we would patiently try that every day. And the amount of satisfaction you get, when you see a student understand and apply what was taught, is beyond measure! When I had joined, the idea of teaching and inspiring girls was fairly new to me. But over the course of summer I understood its impact. I am glad I was a part of bringing a change!
What are some games that inspired you and why?
A game that inspired me would be Threes! It's a really neat idea with a simple interface and it's hard to beat! The game really grows on you once you start playing it. No wonder it had copies on the App Store. I think it's a work of genius and it inspires me to think different.