The Game Deconstruction Group examines the most critically and commercially acclaimed video games in order to answer the question: what makes great games great? At the gathering held on May 21, 2010, game makers discussed Quantic Dream's cinematic title Heavy Rain. The attendees, consisting of designers, artists, programmers, and producers from game companies across Southern California, shared their insights on the two games during an evening of food, laughter, and good-natured debate.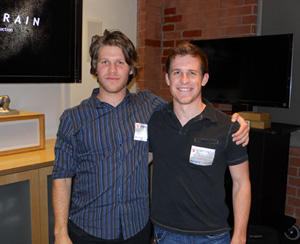 USC Student Presenters Blade Olson and Logan Olson headed and moderated the evening's free-form discussion, providing talking points and observations about Heavy Rain's use of narrative structure, user interface, heads-up display, pacing, and shifting perspectives to create an experience very unique from that of traditional games.

In fact, the very question of whether or not Heavy Rain could be defined as a "game", as opposed to an "interactive experience" came up at multiple points.  Attendees shared their ideas about the defining characteristics of games, what distinguishes them from other forms of consumer entertainment such as films, and how Heavy Rain both abides by and ignores the formatting of more traditional game titles. The presentation went on to examine the spectrum of roles assumed by the player within the context of the game's cinematic experience - as a passive observer, as an actor, as the director and as a moral adjudicator - and the group considered how the game's motion and button-prompt interface affected how people interpreted and reacted to challenges and decisions presented to the player.  By the end of the evening, attendees went away with brand new perspectives on a title which many in the industry have declared blurs the line between games and films.

The Academy would like to thank the USC Game Design students for their comprehensive presentation, and to the generous accomodations of Sony Computer Entertainment in Santa Monica for providing a facility where the group could convene.

A copy of the students' presentation is available upon request.  To request a copy of the presentation, or to be added to the Game Deconstruction Group mailing list, please contact Terrence Myers.